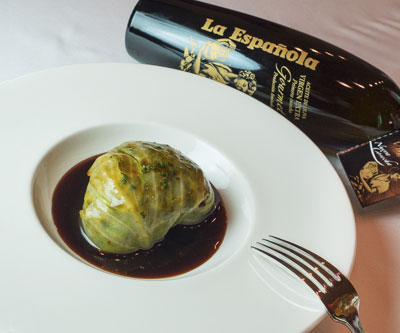 Ingredients:
2 units of duck confit, 2 leeks, 2 carrots, 1 large cabbage, 300 ml red wine, 40 ml extra virgin olive oil Manzanilla variety, 500 grams of veal juice and Salt to taste.
Elaboration:
We de-bone and finely chop the duck confit. Then chop all the vegetables like leeks, carrots, and the heart of cabbage.
Blanch and lightly sauté with chopped duck, oil and a little fat from the confit.
Carefully remove the cabbage leaves, cut the central part which is harder and blanch the leaves 5 seconds in boiling water, cool quickly, so that the cabbage leaves are manageable, we dry the leaves well and fill with the vegetable and duck mixture, dry and set aside.
Reduce wine and the veal juice to half its volume and add on top of the cabbage until it is cooked by wetting the top continuously.