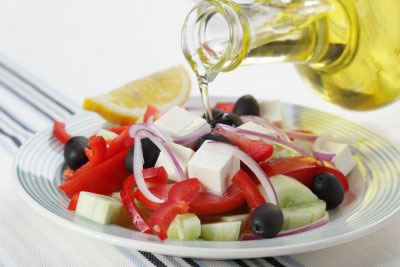 Ingredients:

4 ripe tomatoes, 1 red onion, 1 cucumber, 1 red pepper, 100 grams of feta cheese, Black olives, Oregano, Salt, Black pepper and Soy Plus Omega 3 oil
Preparation:

Cut the tomatoes into eight pieces each, the onions in thin slices and the pepper into strips.

Then Peel and cut a cucumber into half and then sliced them into thick slices.

Later cut the feta cheese into cubes and mix with tomatoes, onions, capsicum and cucumber.

Then we season with Soy Plus Omega 3 oil, salt, oregano and black pepper. Finally put the black olives.