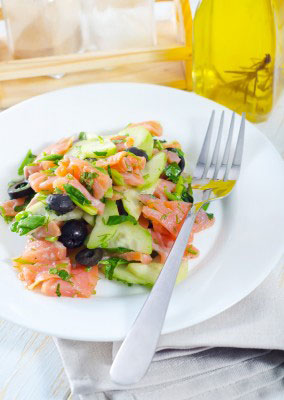 Ingredients:

200 grams of smoked salmon, 1 lettuce, 50 grams of black olives, 1 Lemon, 1 Apple, Cider vinegar, Pepper and salt to taste, Oil Soy Plus Omega 3
Preparation:

In a bowl mix lemon juice, salt and pepper. Cut the salmon into thin strips and leave it to marinate in the mixture of lemon, salt and pepper for 10 minutes.

Cut the lettuce into small pieces and season with oil Soy Plus Omega 3, cider vinegar and salt.

Drain the salmon and put it over the lettuce. Cut the Apple into thin slices and add them to the salmon and lettuce. And finally, cut the black olives and sprinkle them on top of the salad to garnish.